About Us
Our Vision
Constitution High School capitalizes upon the unparalleled historical resources of the city to deliver a program that emphasizes the study of social sciences.  Walking trips to local museums and culturally significant sites engage learners while prominent guest speakers give students first-hand understanding of their rights and responsibilities.
The three instructional themes embedded throughout instruction are: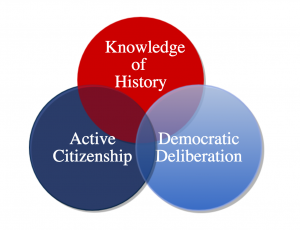 Knowledge of History:
Award winning National History Day Program, innovative Historiography and Constitutional law classes, AP Government and US History classes, Engaging trips to historically significant sites.
Active Citizenship:
Yearly Service Learning, Committee of 70 workshops, Nationally recognized innovative Student Government
Democratic Deliberation:
Active Debate and Mock Trial teams supported by professional lawyers and policymakers, Ongoing Student Government Town Hall Meetings, Nationally Recognized Police Training Program
For more information, call 215-400-7850 or email Principal Robb bdunn2@philasd.org
---